Friends of the Clifton Institute Open Access
We invite Friends of the Clifton Institute to come explore the field station on their own on designated days throughout the year. You can become a Friend of Clifton with a minimum annual donation of $40. Your support will help us reach our goals of expanding and improving our education, restoration, and research programs this year. Thank you!
As you walk our trails, you can help us take care of the field station by keeping your eyes and ears open to help us learn about the ecosystem we're a part of and by enjoying and respecting the plants and animals that live here.
The farmhouse and port-a-potty are closed to all visitors at this time due to COVID-19. We usually ask Friends to sign a liability release at the farmhouse but at the moment we are waiving this procedure since there is no safe way to share paperwork. We will also not be providing trail maps. A pdf trail map is below. Please note that some trails are in the process of being built and most are not marked. Navigation skills and a GPS are recommended. Please stay on the trails, use common sense, and proceed at your own risk.
We reserve the right to deny access to our property to anyone who does not obey the rules posted below or is otherwise disruptive to our field station operations.
On open-access days, you may park either at the lower parking area ("the Gap") or at the farm house.
All children under the age of 18 must be accompanied by an adult.
You are welcome to bring your family with you on open-access days. One or two visitors are acceptable as well, but if this starts to be abused we reserve the right to limit the benefit to family members.
No dogs are permitted.
Leave no trace. We expect you to take all litter with you. It would be even better if you helped us pick up any litter you find! We do not have trash collection facilities.
Take nothing but photographs. We use our trails to teach kids about the environment and their experiences are much richer if there are still feathers and bones and everything else for them to look at.
Absolutely no swimming, fishing, boating, or any other entry in the ponds. We will have zero tolerance about this point. If you see someone doing any of these, know that they do not have our permission to do so.
No alcohol is permitted.
No horses, bicycles, automobiles, ATVs, or any other vehicles are allowed on the trails.
No hunting is permitted.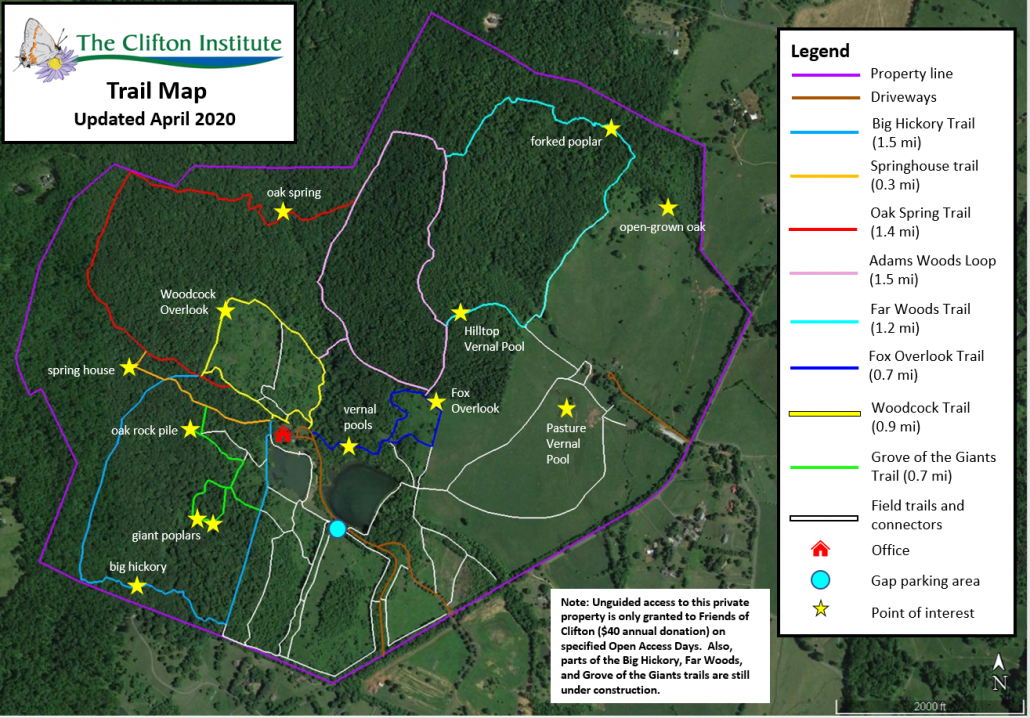 Event Location
The Clifton Institute, 6712 Blantyre Road
Warrenton, Virginia, 20187
Event Fees
Free with Annual Donation of $40
$ 40.00