Pre-K-12 Field Trips

We understand many classes are not able to visit us in-person during the pandemic. Please visit our YouTube channel for free nature education content or explore The Clifton Institute Education Program Guide for virtual program options perfect for online and in-person classrooms.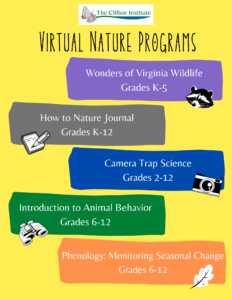 We invite pre-K-12 school groups and homeschool groups to visit us for field trips. Choose an experience from a variety of programs, each of which focuses on a particular aspect of the natural world, like amphibians or water systems, and each of which targets particular grade-specific SOLs.
We spend part of every program on a guided hike, exploring and observing different parts of the field station. We complement the hike with games and activities that teach concepts relevant to that program's theme.
In elementary school, we teach students the basics of ecology and evolution, while encouraging them to engage in critical thinking, to recognize patterns in nature, to formulate questions, and to describe their observations to us and their peers. As students move up to middle school, we teach them about the tools and techniques scientists use to study biology, hydrology, geology, and other sciences. In high school, we guide students toward conducting independent studies and practicing field methods. Groups are encouraged to visit us year after year as students progress from one grade to the next.
Learn more about our themed field trip programs in the The Clifton Institute Education Program Guide. Please fill out this Program Request Form and email it to our Education Associate, Alison, at azak@cliftoninstitute.org when you are ready to schedule a visit.
We also offer monthly homeschool programs that are open to the public. Please check our calendar for upcoming events.
Monthly Family Programs

We offer two FREE monthly series to give young naturalists and their families the opportunity to get outside and learn about the northern Virginia Piedmont ecosystem.
YHikes! (youth hikes) is for children ages 6 and up. During this program, we explore the field station together and learn about the plants, animals, and fungi that live here. You never know what we'll find!
Piedmont Polliwogs is for children ages 2-5, accompanied by a parent/caregiver. Each program will include outdoor story time, a quick nature walk, and an activity or craft project related to the theme.
YHikes! and Piedmont Polliwogs are FREE to attend, but please register: dates and times can be found on our calendar. If it's your first time attending one of our programs, you can save time by filling out our registration and liability form and bringing it with you when you visit!
Summer Camp Programs

We will hold four, week-long summer programs in 2021 for children interested in spending time outside and learning about nature.
Cancellation Policy: Cancellations prior to 30 days before the start of camp will receive a full refund, minus a $50 nonrefundable registration fee. Notice of cancellation must be submitted in writing. Cancellations within 30 days of camp start date forfeit full tuition.
Mask Policy: All campers and staff are required to have a mask with them at all times. We enforce mask wearing when social distancing is not possible and if inside due to inclement weather.
Young Explorers- SOLD OUT

Ages: 7-12
Week 1 Dates: July 19-23
Week 2 Dates: July 26-30
Hours: 9am- 4pm
Fee: $215 per camper
Each day at Young Explorers camp, children will explore the field station with our naturalists and learn about the plants and animals that live in the northern Virginia Piedmont. In the afternoon, children will enjoy crafts and games that will expand their knowledge of ecology and the environment. Campers will gain a deep understanding of our natural surroundings and the confidence they need to continue spending time outdoors for years to come. We will do a different set of activities each week so campers can have interesting and enriching experiences by coming to either week individually or both weeks. Lunch will no longer be provided by The Clifton Institute. Families are welcome and encouraged to register for both weeks but must pay for each session separately.
Please email Alison at azak@cliftoninstitute.org to be placed on the wait list.

Piedmont Polliwogs- SOLD OUT

Ages: 4-6 (accompanied by an adult caregiver)
Dates: June 28- July 2
Hours: 9am- 12pm
Fee: $95 per camper
During Piedmont Polliwogs camp, your early learner will explore and engage with nature on our beautiful 900-acre field station. We aim to inspire feelings of curiosity and wonder for the natural world, while promoting healthy minds and bodies as children play and learn outside. A typical morning will include an outdoor story time, a short nature walk, snack time (please bring snack from home), and a craft project or related activity.
Update (3/11/21): Piedmont Polliwogs camp is SOLD OUT and the wait list is full. Please join us for our monthly pre-K programs of the same name.
Young Scientists Research Experience

Ages: 13-18
Dates: June 21-25
Hours: 9am- 4pm
Fee: $350 per student
During this unique experience, students will explore and carry out their own research project. Young Scientists will engage in inquiry-based, hands-on learning as they develop their own research questions, collect and analyze data, and present their results, all under the guidance of an experienced mentor. This opportunity is perfect for middle and high school students with an interest in the environmental and natural sciences and the desire to experience ecological fieldwork. We welcome motivated students who are excited to spend the week at our beautiful, 900-acre field station in the northern Virginia Piedmont in the company of like-minded peers.
Example research questions include:
How does road noise affect the singing of birds, frogs, and other animals?
Where on the field station is there the most evidence of deer and other mammals?
Are there more insects on plants that are native to Virginia or on exotic plants?
This program is nearing capacity. Please email Alison at azak@cliftoninstitute.org to inquire about registration.
College and University

We invite teachers and professors from colleges and universities to use the field station as an extension of their classrooms. Our field station is ideally situated to serve as an outdoor laboratory. We are happy to provide a lecture or a guided tour of the field station. We are also happy to let you explore and study the property on your own.
We use iNaturalist to document EVERY species (of plant, animal, fungi, and everything else) that is found on the field station.
The iNaturalist app is an easy and engaging way for students to contribute to a long-term scientific project. Let us know if you or your students would like to get involved!
Internships

We provide internships for 15-20 high school and college students each year. Our interns enjoy the opportunity to learn what's it like to conduct scientific research and to work at an environmental non-profit and they help with our scientific research projects, environmental education programs, and conservation efforts. We have mentored interns through a number of programs, including
Smithsonian Mason School of Conservation,
various George Mason University courses,
Fauquier High School's Government Internship,
Fauquier High School's Environmental Sciences Academy,
and Highland School's Social Entrepreneurship and Environmental Sustainability Certificate.
We also periodically hire paid interns for specific research projects. You can find those opportunities here. If you can't commit to a long-term internship but would like experience working at an environmental non-profit, you can find our volunteer opportunities here.

Public Programs

Through our public programs, members of our community of all ages have the opportunity to visit the field station, to learn about ecology and conservation, and to engage with other people who are interested in natural history and spending time outdoors.
We host a series of public programs throughout the year. Some programs focus on a particular type of organism, like American Woodcocks, butterflies, or fungi. Others focus on a particular way of experiencing nature, like photography or nature journaling.
Our free, monthly Mindful Naturalists series was created to inspire mindful observation and nature appreciation. Each month we explore a different topic and experiment with a different practice for mindfully experiencing the natural world.
We hope these programs teach you a bit about the natural history of our property and of the area and inspire you to continue spending time outside learning about nature. You can find our full calendar of events here.