Programs for pre-K-12 Students

We have all sorts of programs: field trips for school groups, programs for the whole family, and drop-off only programs meant just for students, some on weekends and others on weekdays. You can learn more about each type of program below. If you're not familiar with the names of our programs and who they're intended for, you can find a flow chart here. You can also find our calendar of events here. We hope we'll see you out here soon!
Pre-K-12 / Homeschool Field Trips
Explore our new Field Trips page, where you can find our program calendar, field trip request form, payment and policy info, and FAQ's.  Please direct any questions to our Education Associate Bridget Bradshaw (bbradshaw@cliftoninstitute.org).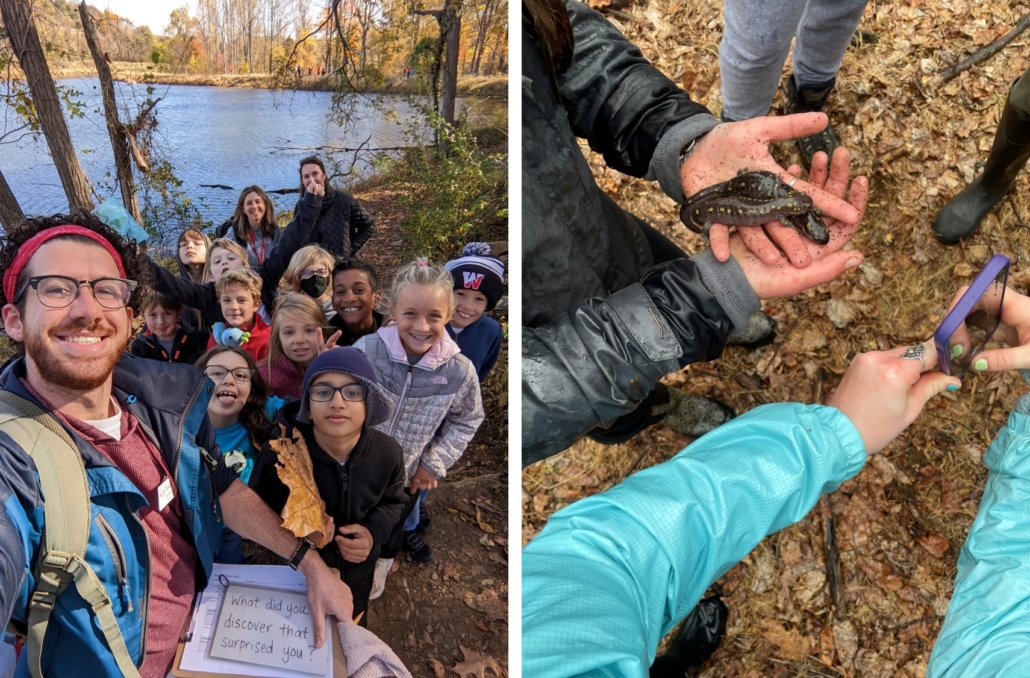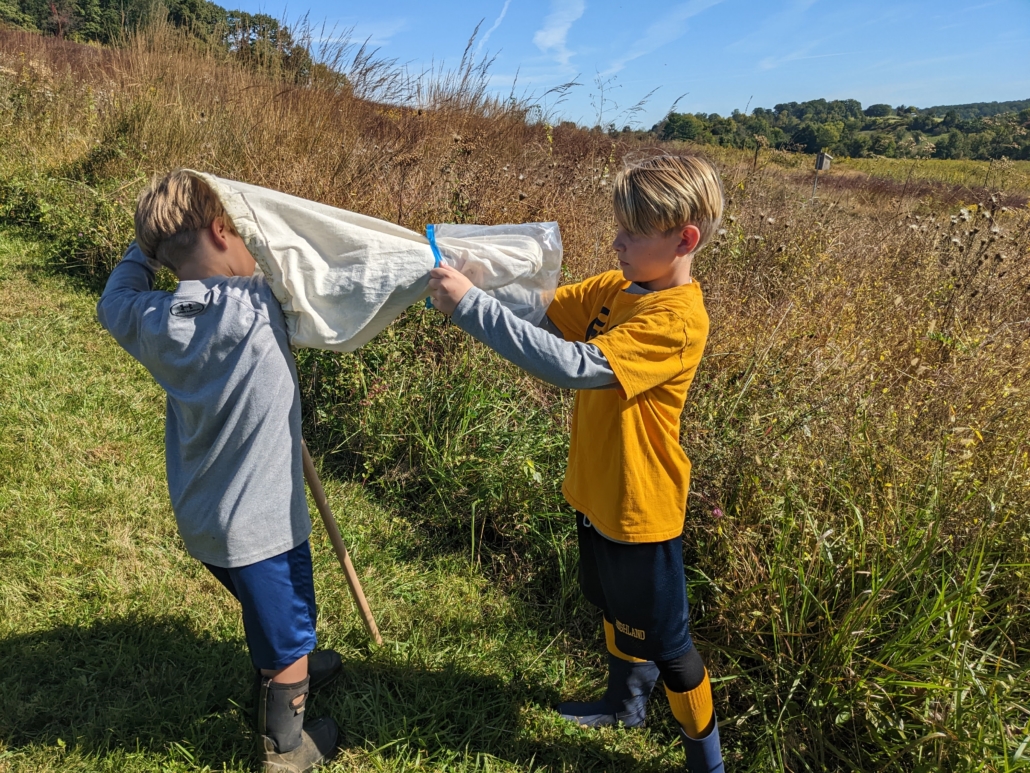 Choosing A Program

We offer programs for a wide range of ages, so where does a person start?  Never fear–we've got a flowchart that helps!  Choose a path based on the time of year and age of participant, and the arrows will lead you to an option that meets your criteria.  You can also visit our events page and filter by age, series, date, and more!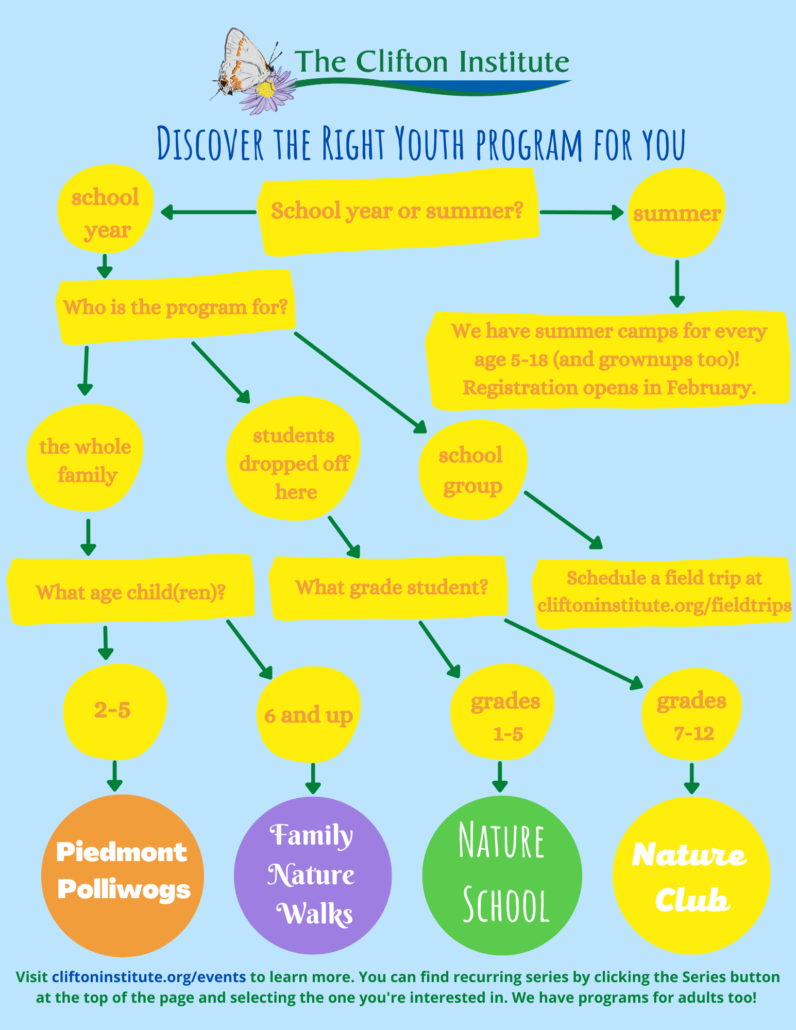 Piedmont Polliwogs (Pre-K)

*2023-24 Registration Now Open!*
This September – May program for preschoolers is all about building independence and natural history skills in a fun setting!  Students attend with a family member for one Thursday morning each month.  Students start by checking in with each other, learning about a new topic through a hands-on activity, listening to Blossom the Opossum read them a story, and going on an adventure on one of Clifton's many trails.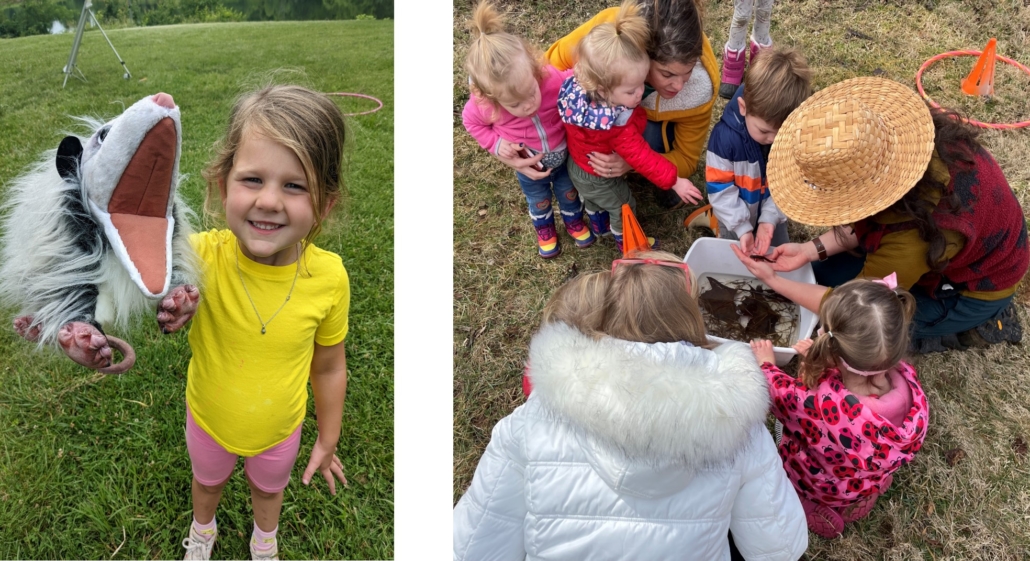 Nature School (1st-5th)

*2023-24 Registration Now Open!*
In Nature School, the field station's 900 acres are our classroom!  This school-year-long program for elementary-aged students provides the opportunity to get to know Clifton inside and out.  The same group of students meets every other Wednesday from fall, through winter, and ending in spring.  Each September, they are given a journal and use it to reflect on the subject du jour–fruits, lichens, vultures–whatever the we're focusing on identifying for the day!  Each day ends with time spent working on a group restoration project.  They learn how to be in a group, identify an impressive array of native organisms, try their hand at our research projects, and navigate the challenges of being outside in all kinds of weather.  Students who attend year after year are able to see not only the seasons change on this diverse piece of land, but also see the transformation due to their hard restoration work.  This is the perfect place to let your young naturalist run wild and discover new friendships with likeminded kids.

Nature Club (6th-12th)

*2023-24 Registration Now Open!*
Do you have a nerdy young adult in your life who needs some space to commune with other nerds?  This may be the place.  Nature Club meet on the first Saturday of each month starting in September and culminating with a party in May.  This year, students will be experience what it's like to work on the three different pillars of the Clifton Institute–restoration, research, and education.  This could range from spending a day collecting seeds and planting plugs, to conducting plant and amphibian surveys, to creating lesson plans and teaching materials for younger students.  W also allow for plenty of time for students to build friendships and spend some precious, un-rushed time together outside.

Monthly Family Nature Walks

We offer monthly family nature walks to give young naturalists and their families the opportunity to get outside and learn about the northern Virginia Piedmont ecosystem. During these programs, we explore the field station together and learn about the plants, animals, and fungi that live here. You never know what we'll find! These walks are free to attend, but please register: dates and times can be found on our calendar.
Summer Camp Programs
**2024 Registration will open mid-February**
We hold four, week-long summer programs in for children interested in spending time outside and following their curiosities about the world around them.  From 5-year-olds to young adults, students are given the chance to explore our 900-acre facility full of fluffy, scaly, slimy, crunchy, sometimes stinky, mysterious, and abundant life.  Before registering, please carefully read the policies and camp descriptions below.
Ages: 5-6 (Drop-off)
Hours: 9am – 12pm
During Young Explorers camp, your early learner will explore and engage with nature on our beautiful 900-acre field station. We aim to inspire feelings of curiosity and wonder for the natural world, while promoting healthy minds and bodies as children play and learn outside. Each day has a different theme, which is explored through hands-on activities, a children's book, and an exploratory walk.  Returning campers should note that this is now a drop-off program, so each day will also include elements that build independence, such as learning how to open snack, ask for help, and help others!
Young Naturalists (Session 1 & Session 2)

Ages: 7-12
Hours: 9am- 4pm
Each day at Young Naturalists camp, children will explore the field station with our naturalists and learn about the plants and animals that live in the northern Virginia Piedmont. Each week will follow a different theme (insects, plants, vertebrates, fungi, etc.), so you can sign up for both weeks and still learn new things!  Each day begins with a Morning Workshop where campers dive deep into the subject for the day, which prepares them for the rest of the morning which is spent exploring through the lens of what they learned earlier.  After a picnic lunch on the front lawn, students are given the chance to cool down by playing in the hose before getting ready for Afternoon Choices.  Afternoon Choices give campers agency in shaping their camp experience by picking what they prefer to do from a set of 3 options which are different each day.  These could include things like water coloring at the beaver pond, hiking to the lichen rocks, playing camouflage, or foraging for wine berries! Lastly, we give each camper a journal and conclude each day by sitting and reflecting in small groups before ending with Closing Circle–a chance to share what we liked, what we were challenged by, and things we're looking forward to.
Families are welcome and encouraged to register for both weeks but must pay for each session separately. Students will bring their own snacks and lunches from home.
Young Scientists Research Experience

Ages: 13-18
Hours: 9am- 4pm
During this unique experience, students will explore and carry out their own research project. Young Scientists will engage in inquiry-based, hands-on learning as they develop their own research questions, collect and analyze data, and present their results, all under the guidance of an experienced mentor. This opportunity is perfect for middle and high school students with an interest in the environmental and natural sciences and the desire to experience ecological fieldwork. We welcome motivated students who are excited to spend the week at our beautiful, 900-acre field station in the northern Virginia Piedmont in the company of like-minded peers.
Example research questions include:
How does road noise affect the singing of birds, frogs, and other animals?
Where on the field station is there the most evidence of deer and other mammals?
Are there more insects on plants that are native to Virginia or on exotic plants?
Policies 
Cancellation Policy: Cancellations prior to 30 days before the start of camp will receive a full refund, minus a $50 nonrefundable registration fee. Notice of cancellation must be submitted in writing. Cancellations within 30 days of camp start date forfeit full tuition.
Paperwork:  Within 3 days of registration, you will be emailed medical and emergency contact forms to be filled out and returned by April 15, 2023.  If you do not submit your paperwork by this date, you will be refunded all but the $50 and the spot will be offered to the next person on the wait list.  Paperwork is important for us to plan!  Please send it to camps@cliftoninstitute.org upon completion!
Participant Age:  Campers should be within the specified age range for each program at the time of the program.
Vaccination Policy:  Staff and campers must be up-to-date with all Virginia Board of Health School Immunization requirements for the appropriate age (found here).  
Scholarships:  If you are interested in a scholarship, please email camps@cliftoninstitute.org  We will not let financial challenges keep a camper from attending!
College and University

We invite teachers and professors from colleges and universities to use the field station as an extension of their classrooms. Our field station is ideally situated to serve as an outdoor laboratory. We are happy to provide a lecture or a guided tour of the field station. We are also happy to let you explore and study the property on your own.
We use iNaturalist to document EVERY species (of plant, animal, fungi, and everything else) that is found on the field station.

The iNaturalist app is an easy and engaging way for students to contribute to a long-term scientific project. Let us know if you or your students would like to get involved!
Internships

We provide internships for 5-10 high school and college students each year. Our interns enjoy the opportunity to learn what's it like to conduct scientific research and to work at an environmental non-profit and they help with our scientific research projects, environmental education programs, and conservation efforts. We have mentored interns through a number of programs, including
Smithsonian Mason School of Conservation,
various George Mason University courses,
Fauquier High School's Government Internship,
Fauquier High School's Environmental Sciences Academy,
and Highland School's Social Entrepreneurship and Environmental Sustainability Certificate.
We can only provide a limited number of internships every season, so please get in touch as early as possible. We find internships to be most beneficial to everyone if interns can commit to a regular schedule (e.g. every Wednesday for several weeks or every day for a couple of weeks). Interns usually bounce between different projects dictated by our staff's needs. You can expect to spend a good amount of time outside and physical labor may be required. We periodically hire paid interns for specific research projects. You can find those opportunities here. If you can't commit to a long-term internship but would like experience working at an environmental non-profit, you can find our volunteer opportunities on our calendar.

Adult Programs

Through our adult programs, members of our community of all ages have the opportunity to visit the field station, to learn about ecology and conservation, and to engage with other people who are interested in natural history and spending time outdoors.
We host a series of adult programs throughout the year. Some programs focus on a particular type of organism, like American Woodcocks, butterflies, or fungi. Others focus on a particular way of experiencing nature, like photography or nature journaling.
We hope these programs teach you a bit about the natural history of our property and of the area and inspire you to continue spending time outside learning about nature. You can find our full calendar of events here.