In our research at the Clifton Institute, our goals are to increase our knowledge of the ecology of the field station, to understand how native plants and animals are affected by restoration, and to determine how to conserve species that are rare or declining.
You can find information about some of our research projects below, but this is not an extensive list and we are very open to other types of research being conducted on the field station. If you are interested in conducting research here, please get in touch. We are happy to have scientists conduct independent projects on the field station. We are also happy to have interested individuals participate in our ongoing studies.
Restoration Ecology
Across North America, grassland birds are declining faster than birds in any other habitat. In 2019 we started a major project to restore 110 acres of what has been used as a cattle pasture to a native grassland. The first step in establishing a native grassland is getting rid of the nonnative plant species; we will do this by using herbicides and repeated discing (an organic alternative similar to plowing). Once native plants are established, we will maintain the grassland by mowing or prescribed burning. We will test seven combinations of establishment and management methods in order to figure out how best to help declining native species. The map below shows the layout of our experiment. Virginia Working Landscapes and the Oak Spring Garden Foundation will replicate this experiment on their respective properties. Two local landowners will also be testing discing. Having five properties involved in the experiment will dramatically improve the statistical significance and general applicability of our results.
We will measure the effectiveness of each treatment with biodiversity and soil surveys. To get a baseline understanding of the state of the pasture, volunteers from the Piedmont Chapter of the Virginia Native Plant Society quantified the relative abundance of all plant species in our pastures over the course of the summer of 2018 (you can find the full list here). Starting in the summer of 2018, volunteers and staff members have conducted regular bird, butterfly, and plant surveys, all of which will continue in the years to come. Our findings will be used to guide our future restoration projects and educate local landowners.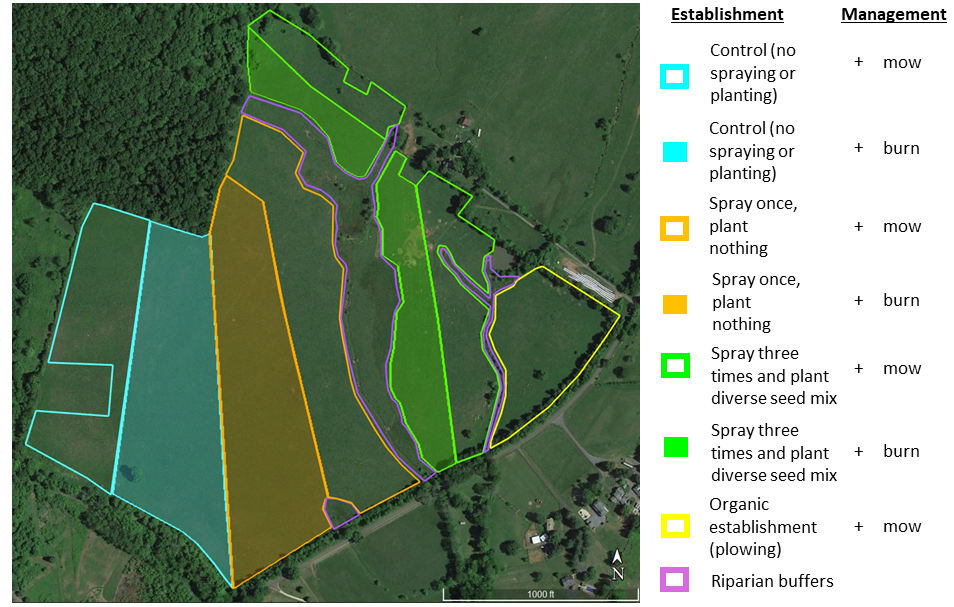 We have already done several scientific studies in our grassland: we have monitored salamander reproductive output in a vernal pool there; we have compared Grasshopper Sparrow abundance in the grassland to that in a cattle pasture; and we have surveyed Chinese lespedeza to understand the effects of prescribed burns on the exotic plant. But there's so much left to learn! Please get in touch if you would be interested in conducting a scientific study as part of our grassland restoration experiment.
Natural history refers to making observations, rather than conducting experiments, to understand how organisms function in their natural settings. Recently, experimental biology has come into favor and natural history has become somewhat neglected.
The wonderful thing about natural history is that anyone can make observations of the natural world, so people of all ages and backgrounds can contribute. Because the field station covers 900-acres of natural habitats, it is an ideal location for natural history studies.
Community Science
Have you ever wanted to conduct scientific research? Or just wanted an excuse to go for a walk in the woods? Community science gives everyone the opportunity to spend time outdoors, to learn about biology, and to contribute to the meaningful goal of understanding the natural world around us.
There are several ways to get involved with community science at our field station. Any time you visit the Clifton Institute, you can record your observations of animals, plants, and fungi and submit them to one of our online databases.
We use the iNaturalist website and app to keep a list of ALL the species that have been observed here. You can contribute by uploading a picture of something you saw. You don't even have to know what it is you took a picture of! The community of naturalists there will help you identify it.
We use eBird to record observations of birds on the field station.
We also participate in two nation-wide community science efforts. We host a North American Butterfly Association every July and a Christmas Bird Count every December. Keep an eye on our calendar to sign up when registration opens!
One of our goals is to catalog every that occurs on our 900-acre field station. It's an ambitious goal but we'll learn a lot and have fun along the way. We started a new iNaturalist project to collect our observations. Check out some recent finds!
Let us know if you'd like to visit and help with the project!
Climate Change Research

We are engaged in multiple projects that use repeated observations to measure the effects of climate change on native species. One way that animals may respond to climate change is by moving to higher elevations, where the climate is cooler. Our co-directors, Bert and Eleanor Harris, are conducting bird surveys along altitudinal gradients, in northern Virginia as well as in North Carolina, in order to track changes in distribution and abundance as a function of climate change. We complement these bird surveys with plant studies, in order to have a more complete understanding of how the ecosystem is responding to climate change.
For years, the Clifton Institute has been participating in the Monitoring Avian Productivity and Survivorship (MAPS) program, a nationwide program coordinated by the Institute for Bird Populations. This project is run by Tom Wood of George Mason University. As part of MAPS, Dr. Wood bands birds on the field station every ten days from late spring through summer in different habitats on the field station. Of particular interest are the Neotropical migrants who use the field station as they are migrating north to breed. The data that has been collected over the last several years is being used to study the habitats that different species use, the resources that they need and how their abundance is changing over time. This information is valuable for producing informed conservation strategies.